We took our trip to the Library last week. I love going with my boys, our library is small the children's section is very small with only 10 or 11 shelves of actual picture books for kids. I like to find the odd books, ones that you don't usually find at a larger library. Our library is also donation only, so most of the books are slightly used, which is great, because we REALLY read our library books!! We look at them over and over again and sometimes we even fall asleep with them in our bed! (There is a larger library just 30 minutes away and hopefully in the spring we will get a library card to it.)
So here are our holiday finds......
Sometimes our library will sell books in order to have money to purchase new books. This was one they were selling and I bought it for Nick. It was worth all 50 cents I paid for it!! He loves pulling the tabs open and "peek a booing" what's on the inside! We don't read the words very much, but we point and talk about the pictures quite often. The Arthur books have been a family favorite for years and it was great to get to introduce him to Nick with his own book!
I picked out this great classic for Isaac. I read it to all three boys one night for our Advent Activity. I had wanted them to get lost in the magic and romance of this great classic and I thought this very colorfully illustrated edition would do the trick. I had forgotten I am living in a boy's world!! They were more enchanted with the idea of the overgrown mouse than the moral of the story!! I enjoyed reading it and we had fun talking all about the big mouse and the ugly man!
Tyler fell in love with Jan Brett last year in kindergarten when his teacher did a whole unit on the author. She read a few of her books and did some activites with the kids. Tyler has since put Jan Brett in his top ten. The pictures in this book are magical. There is so much to look at on each page. I love the colors she uses in the book. Not to bright and not to may different ones. Grandma even borrowed this find to read to Dan's class!! Highly reccomend!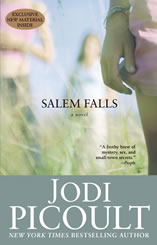 As for me, I have jumped into another Jodi Picoult novel. I admit this book will not raise my IQ, but it is fun. It's a great novel to simply get lost in. She writes simply, with lots of great illustrations with words. I find it's hard to put down. I must say, it is a little racier than the last book of her's that I read. If you are really sensitive to certain material, I mitght not reccomend it to you. I just love finding a good, easy, read to just get lost in for a while. ( I read all the Twilight novels and loved them!! I know, right!!)
If your looking for some more great finds, visit my friend
Sarah
!! Have a great week!